Is a specially designed system to control the filling level of the containers, such as the tap closure control.
Advantages------------------------------------------------------------




Customer claims reduction

Inspections------------------------------------------------------------------------------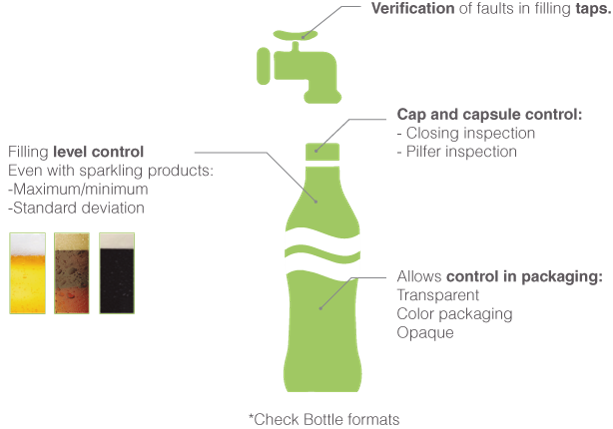 It includes a user-friendly pygsaVision software that performs a three-dimensional product reconstruction allowing an easy handling even for people without experience in artificial vision systems.
Besides, it incorporates simple and intuitive inspection tools that allow:
Handles multiple formats.
Protects the system from unauthorized line staff with passwords (3 security levels).
The creation of statistics and database for the control and management production.
Provides value information to the production management system.
Enables and disables the expulsion from the software
Selection of active and inactive inspections from the software.
View the review of the latest "Bad" inspections, which facilitates the identification of productive problems and parameterization of the tolerances of inspection.
Remote control with remote assistance.
Fan-less industrial computer that ensures the Optimum performance of the system.
17"LED display for the inspections and control of the application.
High-performance led lighting systems power.
Enclosure for keyboard and mouse protection.
Power supply 220V / 12V and 24V hardware.
Status light beacon.
Stainless steel finishes AISI 304 or 316 and aluminum and nylon machines.
Baked paint to ensure its long-term durability.
Easy and flexible change of formats, optional automatic format change system.
Safety disconnect sequence before inadequate system shutdowns (do not protects against power cuts).
18 months Warranty against manufacturing defects.
No maintenance required.