In recent dates, the platform nº1 of the industry in Spanish language (Interempresas), has echoed a news. It reports that the Valencian company PYGSA attended the last edition of Simei @ Drinktec to present its latest developments in:
Drying systems,

Dinamic weighing and

Artificial vision.
The news continues saying that, among all the exposed machinery, pygsaVision 360Label stood out. A specially designed equipment for the control of the correct labeling of the bottles. The system allows the control of cylindrical and square bottles in the same point of inspection, regardless the cylindrincal bottles orientation in the production line since the system is able to absorb the turns of the bottle and the position on the conveyor belt.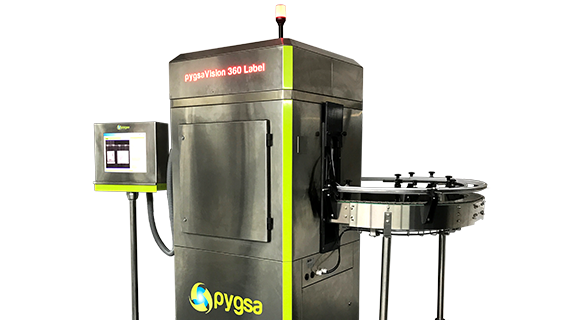 With the pygsaVision 360Label you can  ensure products quality even in high speed production line, fault reduction due to early warning in the manufacturing process and eliminate the human factor during the product inspection.
The system requires a minimum space between products of 65mm and offers the possibility, for applications less than 7,000 inspections / hour,  using the pygsaVision 360Label LS system

The system includes a user-friendly pygsaVision software allowing an easy handling, that performs a three-dimensional reconstruction of the product, even for people without experience in Artificial Vision Systems.
Besides, it incorporates simple and intuitive inspection tools that allow to handle multiple formats, to make a selection of active and inactive inspection from the software, to have a remote control with remote assistance, to provide value information to the production management system, to protects the system from unauthorized line staff with passwords (3 security levels) between other possibilities.